Even though Bel Air doesn't experience the full range of seasons like Northern California, this doesn't mean that spring can't be an exciting time for you. After all, the arrival of Spring is more than just pictures of cherry blossoms and some of your favorite seasonal fruits being restocked in stores; it's the perfect time to do some "spring" cleaning or redecorating of your home. And with the latest interior home design trends being focused on greenery and utilizing feng shui to create synergy within the home, what better time is there than now to spruce up yours!
It's all about the energy
According to
Vogue
, the pandemic is playing a big role in interior home design trends. With many people still working from home and many more choosing remote work, it's becoming increasingly important that the energy in your home is conducive for spending all those extra hours within it. This is why feng shui has returned to the forefront of interior design. Rearranging furniture can refresh or help to release energy in any room.
But before you start rearranging the furniture in your Bel Air home or run to the store to buy new ones, it's important to consider how you intend to use each room. Reimagining each room in your home will help you decide what furniture to keep or get rid of, but it can also help you optimize your space and subsequently help energy flow more freely inside it. If you get stuck trying to visualize the best way to rearrange your space, check out some other Bel Air luxury homes for inspo.
Pick your colors
The
Pantone Color for 2022 is Very Peri (Pantone 17-3938)
. This blueish purple color is perfect for spring and will undoubtedly become a favorite accent color for home decor. You can also expect to start seeing this color influence the interior design of Bel Air luxury homes as well as other Bel Air real estate.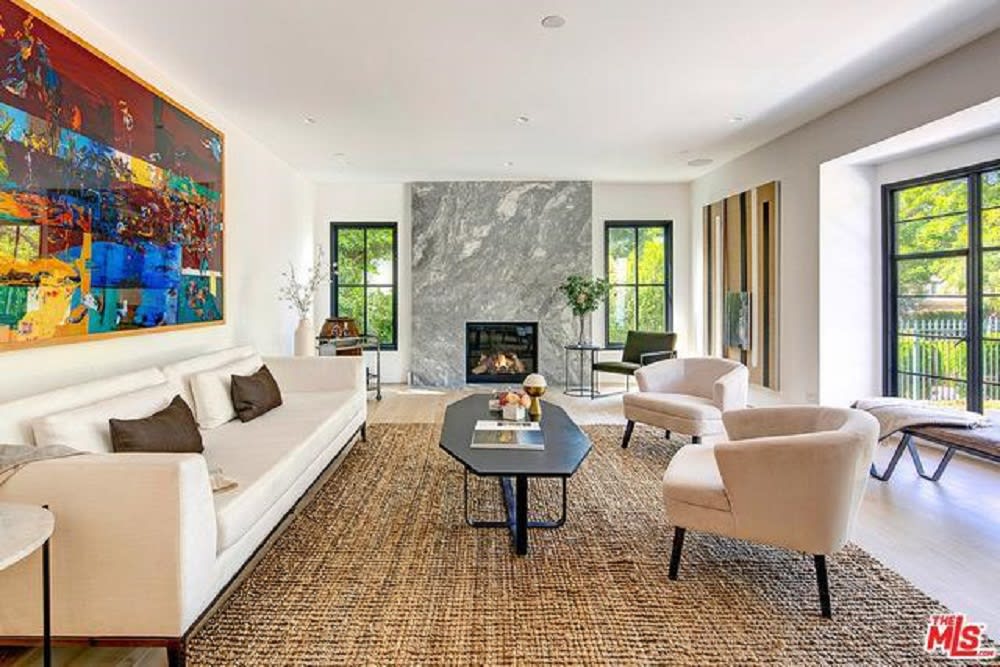 But if you aren't a fan of this particular color, don't worry! Bold and earthy colors are also trending for 2022 interior design. It's important to remember that, regardless of what colors you pick, you need to establish a color palette for yourself. This will help you ensure that the furniture and items in your room look well together and help establish the overall tone of your rooms.
Decide on furniture
You don't need to run out and get all new furniture just to spruce up your home, but if you are looking for some new pieces, vintage and reclaimed wood furniture are the way to go.
Sustainability has become a huge component of 2022 interior home design
. The desire to reduce waste and be more environmentally conscious is not only resulting in designers recycling and reclaiming materials but also in homebuyers seeking out these options in Bel Air homes for sale.
Regardless of your decision to get new furniture or not, you'll want to make sure that whatever furniture you have, complements the room that it is in.
Accent with greenery
Even though a well-manicured front lawn can be considered a staple when it comes to Bel Air real estate,
Camille Styles
says you shouldn't shy away from bringing greenery into your home.
Bringing plants indoors will not only immediately add color to the rooms in your home, but it will also help to liven up the space. Whether you opt for a fresh bouquet of spring florals or incorporate succulents into your home decor, both will be a welcomed addition to your space. They are also a nice way to acknowledge the change of the seasons.
Don't forget your personal touches
Most homeowners and buyers will agree on this; the best part of purchasing Bel Air real estate is making it your own. Whether you are interested in replicating the aesthetic of other Bel Air luxury homes or just trying to establish your own, don't forget to include things that you love while decorating for the season. Your personal aesthetic is key when it comes to decorating your home for Spring.

And even though the warm Southern California climate in Bel Air may not be conducive for warm blankets, this doesn't mean you can't include a throw on your couch. Items like throws, pillows, and candles are easy ways to keep up with the current trends of interior design without having to completely redecorate your home and make perfect personal statements.
Get an interior designer
There are numerous interior designers in the Bel Air area that are more than willing to come in and help you get your home Spring ready. While changing out some home decor might seem like an easy task, depending on the size of your Bel Air real estate, you can save yourself some time by hiring a professional.

Not only will you be able to hire someone that comes highly recommended, but interior designers will also be aware of all the latest interior design trends. They'd be able to help you decide on what items to keep and get rid of, as well as how to help you achieve the aesthetic you want for your home while incorporating all of the things you love.

Whether or not you are someone that likes to change your home decor based on the seasons, spring is honestly the perfect time to give your home a mini-makeover. Spring is about rebirth and the revitalization of energy. Sprucing up your Bel Air home will not only help you achieve this, but it'll also provide you with the perfect opportunity to get rid of things you've outgrown.
Buying or selling Bel Air real estate?
If you've outgrown your current Bel Air real estate and are interested in Bel Air homes for sale, reach out to
The DiPrizito Group
to start the process.