There is nothing better than being able to sit outside with friends and family enjoying nature. This is why so many homeowners have created an outdoor oasis so they can take their favorite activities outside, like cooking dinner, watching the big game, or hosting game night! Here are twelve ways you can take your outdoor entertainment area to the next level.
Incorporate plants
Bringing plants into any area of your home is always a great way to brighten it up and make it seem more alive, and this is especially true with your outdoor spaces. We love being outside to explore and take in the beautiful nature that surrounds us, and there is nothing worse than a dull setting.
Use plants to give your outdoor space a pop of color, whether it's with flowers, trees, bushes, or planter boxes. You can't go wrong — just make sure the colors work with the existing color palette you have created. You can even use the pots and planter boxes to your advantage, mimicking the style and colors of other parts of your area.
Add accessories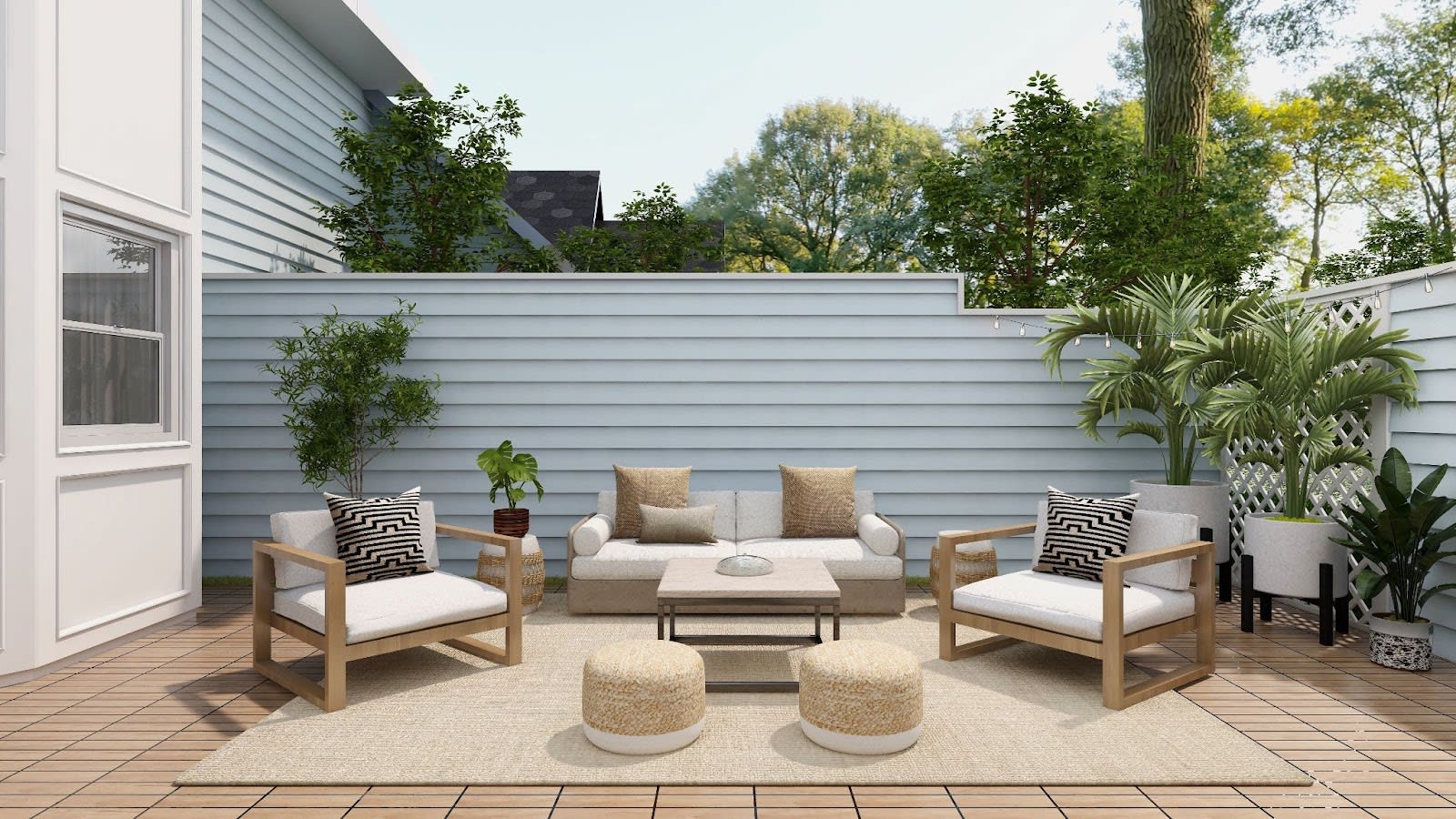 Another way you can add color and personality to your space is by bringing some cute accessories in. Incorporate a cool-colored or patterned rug to bring added color and texture to the area. If you are worried about the weather, install decorative tiles either all over or in a pattern over parts of the floor. Place some decorative statues at different parts of the space to add some flair and personality. If you have a wall or fence, hang some art or signs up to make the area feel more homey and welcoming.
Cover your cushions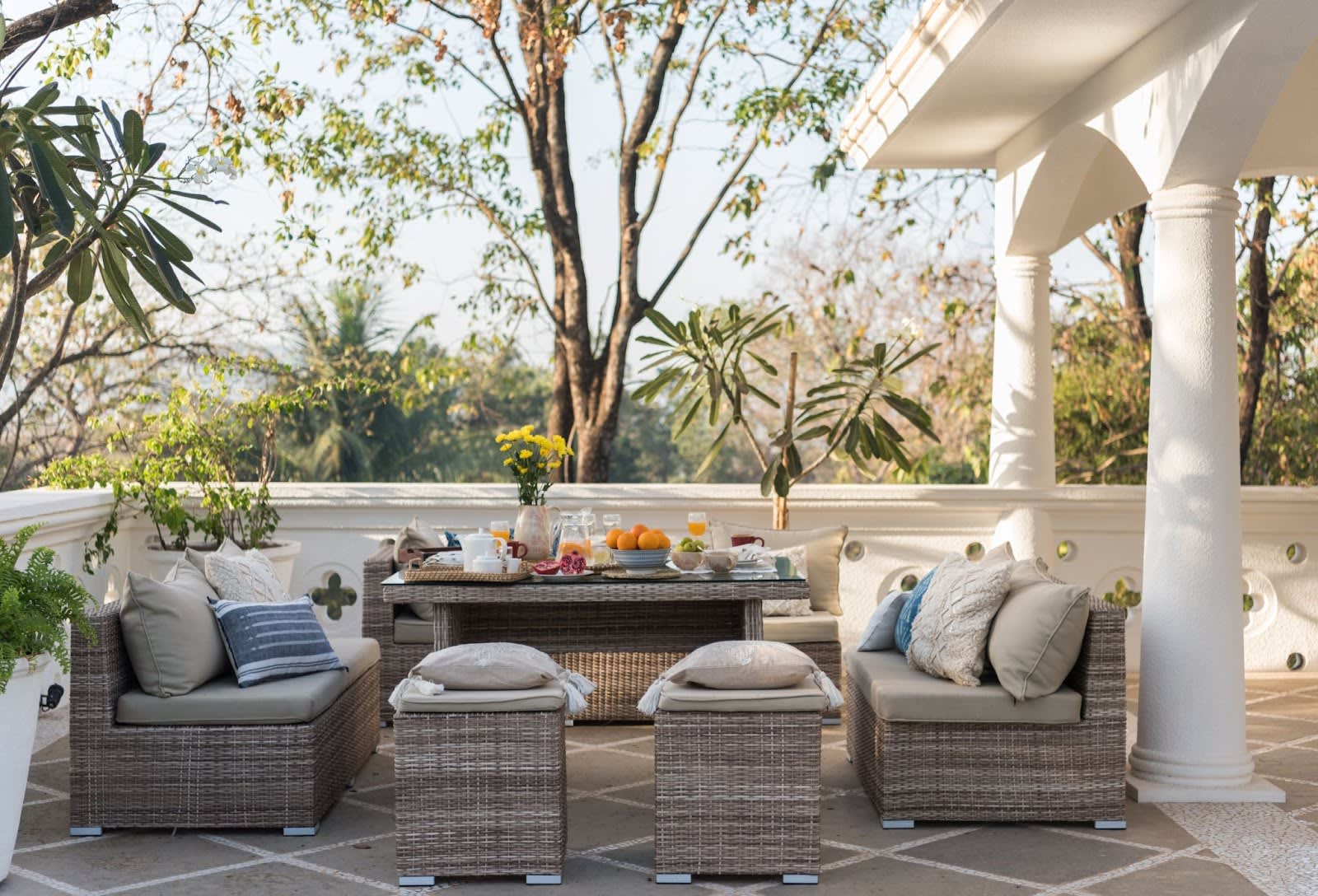 If you want an easy and inexpensive way to add a pop of color or an attractive design into your spot, try covering your cushions with different colors or patterns. You can buy ones that are already made and fitted to your measurements, or try your hand at sewing your own (or having a designer make some custom cushion covers). Not only is this a great way to give your space personality, but you can also have several different options for each season — that way, no matter how many times someone comes over, they will always see something fresh and new.
Don't forget your ceiling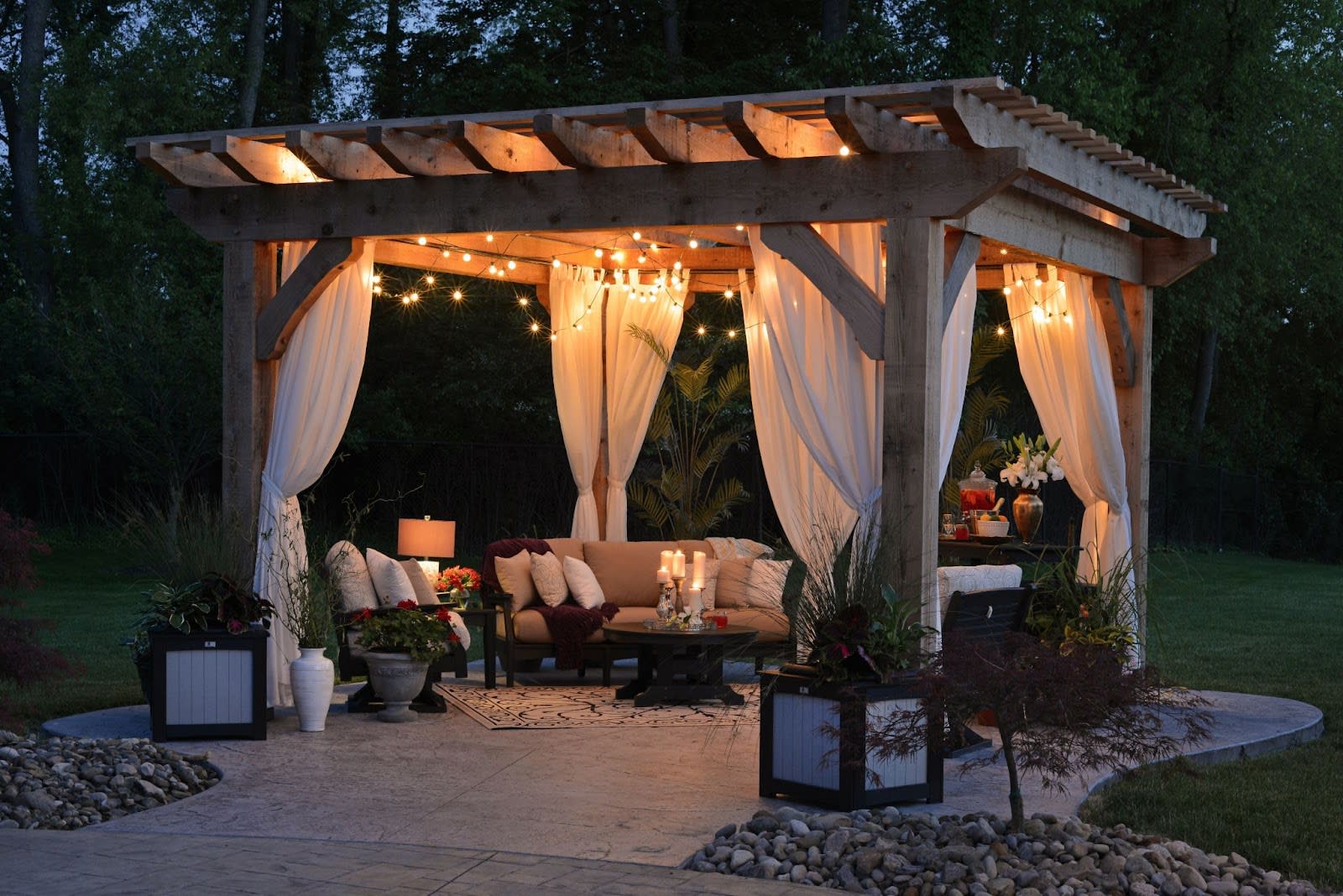 We can spend so much time making sure that the environment around us is perfect that we forget about what's going on in our heads. This area is just as important, though, as it can really pull everything together.
Try hanging some draping or lights across the ceiling to give your space that added element and make it feel that much more cozy and comfortable. Fans are another fantastic feature that adds dimension to the area and keeps you cool in the hot months of the year. You can either have a few smaller ones across the ceiling or one large one. Just make sure whatever fan you buy matches the furniture and theme you have created.
Incorporate lights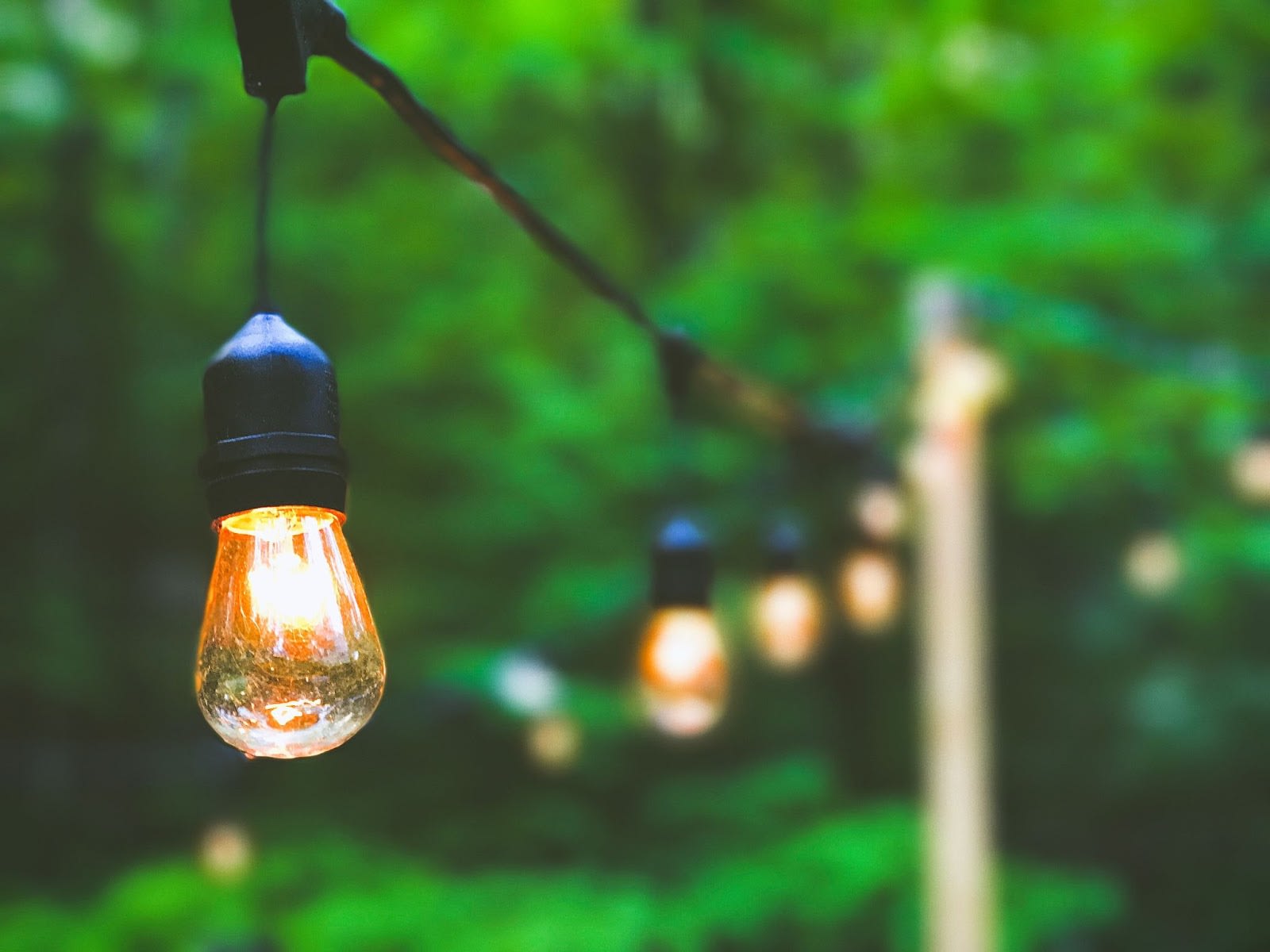 As we said in the last section, lights are a great addition to any outdoor space. They pull a look together and create beautiful scenery to look at, plus it's especially nice to have them in those winter months when it's dark by 5 PM. You can even have multiple kinds of light for different occasions.
Suppose you are hosting a game night or just sitting outside sharing a glass of wine with friends. In that case, you can turn on your string or Edison lights for added brightness and ambiance. If you're having a movie night and want something dimmer, you can incorporate some lanterns, candles, or torches to still brighten up the space without distracting you from your film.
Install a fire pit
Outdoor fire pits are all the rage lately, and they make the perfect way to add ambiance to your outdoor setting. You don't even have to worry about firewood with the natural gas versions that are available. With a simple flick of a switch, you can be sitting next to an inviting fire to keep you warm or just as a beautiful decoration. It's the perfect piece to create a place to hang out and chat with your friends or family while enjoying drinks and dessert after dinner.
Create an outdoor kitchen
This one involves a little more money, but if you are able, adding an outdoor kitchen to your space can make it super simple and easy to cater to your guests or family. You can still be outside talking and mingling with everyone while you cook your entire meal instead of having to pop back inside every few minutes.
You can have just a counter and grill installed, or go with the whole shebang and add a refrigerator and a sink as well. Another great reason to have an outdoor kitchen is to keep your house cool in the hot summer months instead of turning on ovens or having steam heat up your home.
Outdoor dining tables
Since you're cooking outside, it only makes sense to eat outside too! Invest in a lovely outdoor dining table that will give you the opportunity to eat your dinner in the pleasant summer air. Make sure you research the best materials for your area so the weather won't ruin the furniture as the year goes on. Another pro tip? Cover the table when you're not using it so that you don't have to worry about dirt and dust and having to do a massive clean anytime you want to use it.
Add a TV or projector
There is nothing quite like sitting outside enjoying a film or television with your friends and family. Installing a TV or a pull-down projection screen can enhance your outdoor space and create fun moments for years to come. Now on game days, you can get as excited as you want without worrying about someone breaking your favorite lamp or spilling on your carpet. It is also a great way to get your kids and their friends outside and out of the house during get-togethers so you can enjoy your time in peace. Just make sure to invest in some screens or citronella candles to keep the bugs away once the sun goes down.
Hang a hammock or daybed
Hammocks are the perfect thing to incorporate for added seating and a place to sit back and relax. Whether you are reading a book, taking a nap, or watching the clouds or stars overhead, a hammock can bring in that relaxing element to make all of these things that much more enticing. They are easy to hang and easy to take down, so if you need more space or the weather is not suitable for it to be out, you can simply take it down and store it away for the future.
Besides the calming effect, a hammock can also serve as an excellent decoration for your space. If a hammock is not quite your style, maybe a daybed is more your speed. A daybed is a perfect compromise between a hammock and a couch. This one is not as easy to take down and store if you don't want it up though, so keep that in mind when making your choice.
Rattan, wicker, and bamboo furniture
Adding rattan, wicker, or bamboo furniture adds a lovely summer feel to your space, plus they can withstand the outdoor elements well. Depending on the type of furniture you buy, all of these materials can seem chic and modern or relaxed and classic, so they fit any aesthetic. You can keep them in their natural tan and brown hues or paint them to add some color or better match your already existing theme. They are also extremely comfortable and are an excellent addition for sitting around a fire pit, coffee table, or television set.
Add a water element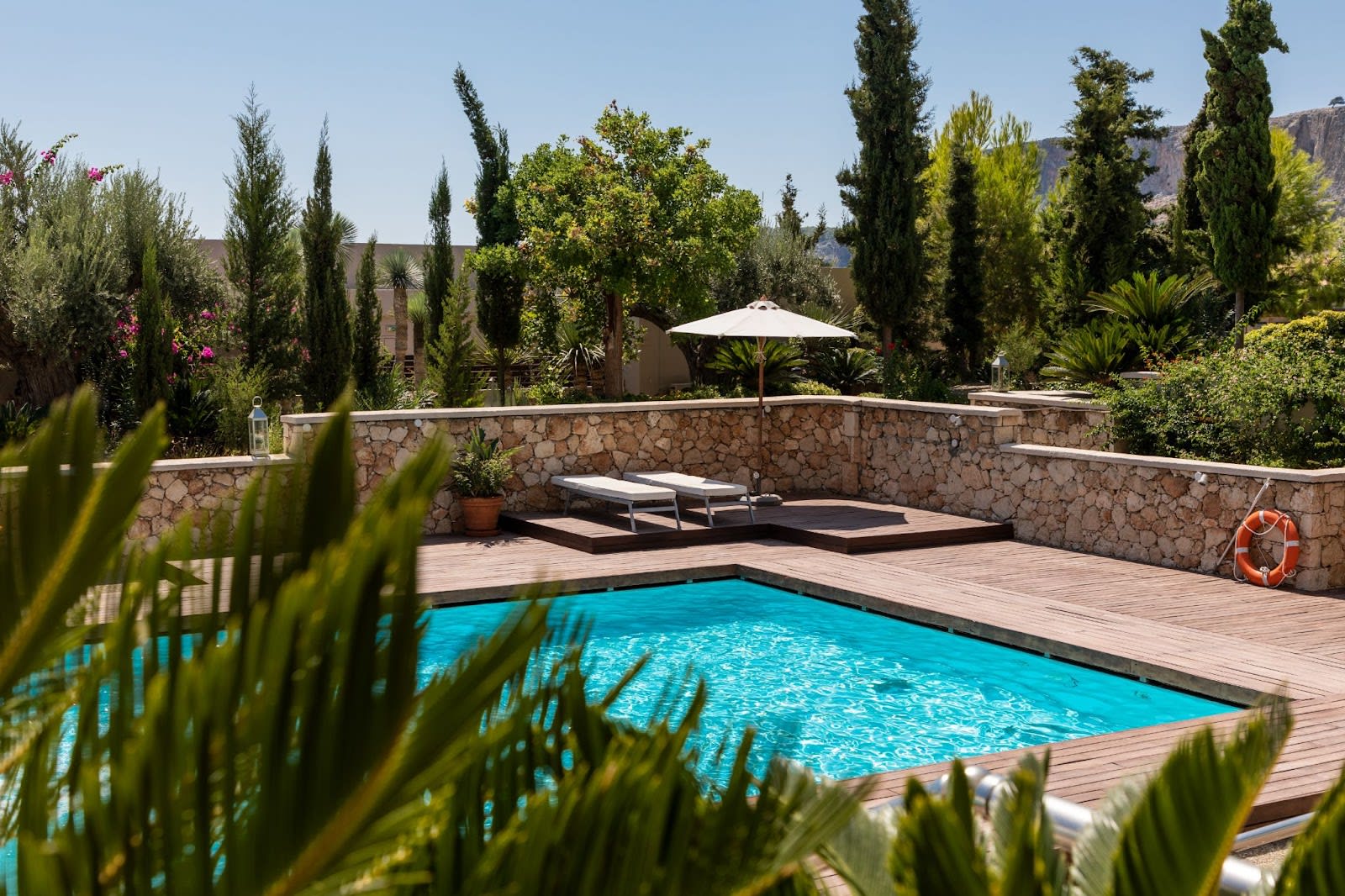 If you have the space and money, adding a pool in your backyard is always a good move. It adds value to your house, gives you another way to exercise, and adds a fun element for any party or get-together.
However, pools are expensive even past the point of installation — they need to be maintained and cleaned on a regular basis. If the cost is too much, or you simply don't have the space but still want to add a water element into your area, you can add a nice fountain instead. Fountains not only give your space an excellent focal point but also add a nice calming sound. They can be large or small, so you can find one that works no matter the space you are working with.
If you're interested in Bel Air real estate, contact The Di Prizito Group to set up an appointment to find a home with the perfect outdoor space for you today!